Description
Temperature sensor suitable for measurement of movable or replaceable parts of machines and devices, e.g. bearings or injection moulds. Equipped with bayonet fitting that enables quick and easy installation in the measured element. Furthermore, the sensor has a spring that protects the flexible cable. The cap of a bayonet fitting can be easily moved across the spring enabling the adjustment of sensor immersion length.
Files
General
Cooperating devices
Cables
Additional accessories
Contact form
Temperature range
-50÷400ºC        Pt100 
-40÷400ºC        K, J

Specification
connector with bayonet mount
bayonet mount enables quick mounting and immersion length adjustment (good contact with the seat)
material: nickel-plated brass
Temperature sensors can cooperate with the devices registering parameters of the controlled process.
Normally, sensor is made with fiberglass insulated lead wire and metallic braid.

There is a possibility to use lead wire of different type.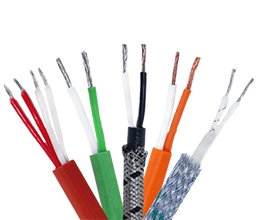 compensation cables
Some applications require the use of additional accessories suitable for their individual requirements.