Description
Limatherm Sensor controller with RS-485 communication as an option. It has digital inputs, two outputs for transmitter supply 24V. N3000 has universal input suitable for most popular thermocouple and Pt100 sensors and analogue inputs, including 4÷20mA. Low or standard 230V power supply can be selected. 4 relay outputs programmable as alarm or control, 5th universal output programmable as SSR 14V (for control of three-phase semiconductor relays  or 4÷20mA (control or retransmission)), digital input/output.
Files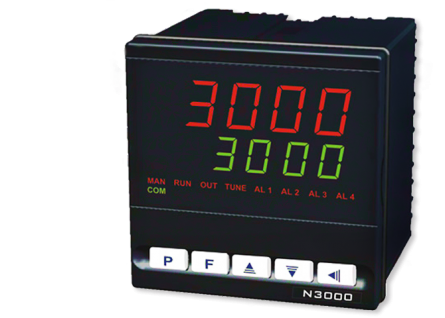 General Compatible devices Additional accessories Contact form
Characteristic
programmable temperature controller
4 digit dual LED display
PID control; ON/OFF control
auto-tuning
sensor offset
front panel: IP65

Specifications
universal input: TC/RTD/4-20mA, digital
additional supply: 24V DC
output: 4xrelay
fifth-purpose programmable output: 4-20mA, SSR 14V
power supply: 230V AC, 24V DC / AC ±10%
dimensions: 96 x 96 x 92 mm; hole: 93 x 93 mm
additional features: interface RS-485
Compatibility device
Thermostats can work with devices such as heaters and temperature sensors, monitoring the temperature of the first to know.
| | |
| --- | --- |
| Temperature sensors | Heating Elements |
| | |
For details see:
"head sensors", "cable sensors", "sensors for air-conditioning"
,
"mineral insulated sensors", "special sensors", "Ex sensors"
and
"heatings elements"
Additional accessories

Some applications require the use of additional accessories suitable for their individual requirements.
| | |
| --- | --- |
| Relays | Radiators |
| | |